Canon Ef S 55 250mm User Manual
Posted : admin On

10/7/2021
View here the free Canon EF-S 55-250MM F/4-5.6 IS STM manual. Have you read the manual but does it answer your question? Then ask your question on this page to other Canon EF-S. Suitable for distant subject matter, the EF-S 55-250mm f/4-5.6 IS STM is an 88-400mm-equivalent zoom for Canon APS-C DSLRs. This lens's long reach is enhanced by the inclusion of an Ultra-Low Dispersion element, which helps to greatly reduce color fringing and chromatic aberrations for greater clarity and color accuracy throughout the zoom range.
Navigate Review

Jump to review page...
Lab Test Results
Blur

Chromatic Aberration

Vignetting

Geometric Distortion
Your purchases support this site
Buy the Canon EF-S 55-250mm f/4-5.6 IS II
SLRgear Review
June 26, 2013
by Andrew Alexander
In June 2011, Canon released an update of its telephoto zoom kit lens: the EF-S 55-250mm ƒ/4-5.6 IS II is functionally the same as its predecessor, but cosmetically it has been updated. It was designed specifically to fit on the EF-S mount and will not work with larger-sensor bodies.
The 55-250mm covers an impressive zoom range, with an equivalent field of view comparable to 88-400mm. Zooms with this level of magnification typically become unwieldy at their longer focal lengths, requiring either a fast shutter speed to control camera blur, or as Canon has implemented here, some form of image stabilization. Canon touts its image stabilization as being capable of letting the shooter take photos with a speed four stops slower than required.
The 55-250mm isn't a 'constant' lens, in that as you increase the focal length, both the maximum and minimum aperture sizes decrease. The following table reflects the change in aperture with focal length:
| | | | |
| --- | --- | --- | --- |
| Focal Length | 55-99mm | 100-199mm | 200-250mm |
| Largest aperture | ƒ/4 | ƒ/5 | ƒ/5.6 |
| Smallest aperture | ƒ/22 | ƒ/29 | ƒ/32 |
The Canon 55-250mm ƒ/4-5.6 does not ship with a lens hood; an optional circular-style lens hood is available separately. The lens takes 58mm filters, and is available for $300.
Sharpness
The 55-250mm ƒ/4-5.6 is impressively sharp for a 'kit' lens, even when set to its widest apertures. The sharpest performance for this sample is available in the mid-range, when set to 100mm and ƒ/8, where it is tack-sharp from corner to corner.
When set to its widest aperture, ƒ/4-5.6, the lens exhibits only slight traces of softness either in the corners (55-70mm) or generally (135-250mm). The lens improves its sharpness results as you stop down, achieving optimal sharpness at ƒ/8-11, and getting only slightly softer at ƒ/16 with the introduction of diffraction limiting. Results at ƒ/22 are acceptable, but anything smaller than that and the image becomes quite soft.
Chromatic Aberration
The 55-250mm has some small issues with chromatic aberration, but nothing like we've seen in other lenses in this price point. For this lens the CA issues manifest more towards the smaller aperture than the larger. The lens shows its 'worst' performance at 55mm and any aperture greater than ƒ/11.
Shading ('Vignetting')
For this lens, corner shading is related to the aperture setting. This is a departure from most lens designs where corner shading is at its worst at wide-angle and improves as you zoom in towards the subject. With the 55-250mm, we can see 1/3-1/2 stop of corner darkening when the lens is set to its widest aperture, regardless of the zoom setting. Stopping down by just one aperture setting renders corner shading to insignificant levels (less than a quarter of a stop).
Distortion
The 55-250mm produces a distortion profile which is fairly typical for this class of lens; barrel-distortion at the wide end (55mm), with increasing pincushion distortion as the lens is set to a larger focal length. Barrel distortion isn't a big issue: 0.4% maximum (corner) distortion at 55mm, with 0.2% overall. This distortion is fairly linear until there is effectively no distortion at 80mm, and is easily corrected in image post-processing.
Ef 55 250mm Lens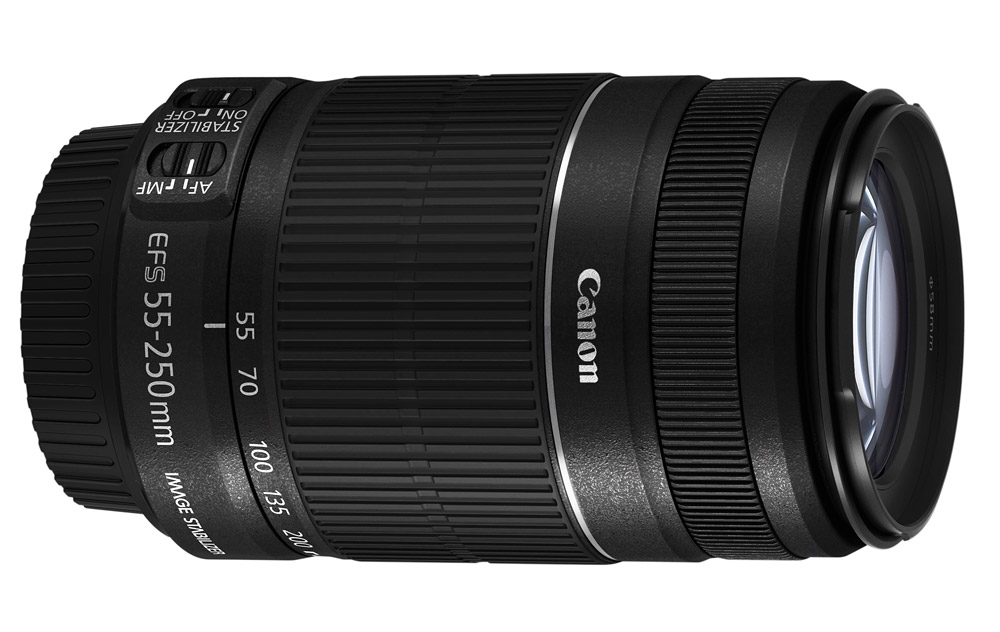 The story changes after 80mm, where average distortion retains its barrel character, but maximum distortion is visible in the corners as pincushion distortion. At its most visible there is -0.3% pincushion distortion at 200mm in the corners, and 0.1% barrel distortion generally. This style of distortion is a bit more difficult to correct in post-processing.
Autofocus Operation
The 55-250mm focused quickly on our 7D, and was surprisingly quiet as well. It's not a USM lens, so you can't just override autofocus results by just turning the focus ring. This lens will cover the minimum to infinity focusing distance in just over one second, and will hunt for proper focus more than the better quality Canon lenses. The focus ring will physically turn while autofocusing, so Canon advises that you keep your fingers away while it does its job.
Macro
With a minimum close-focus range of 1.1 meters (3' 6') and a magnification ratio of 0.31x, the 55-250mm provides respectable performance in the macro category.
Build Quality and Handling
If you're comparing this review to the previous version of the Canon 55-250mm - you may notice some déjà vu; there were many similarities in our testing, so not much has changed, other than the cosmetics.
For fit and finish, the 55-250mm certainly doesn't measure up to Canon's pro-grade glass, but then, the price tag doesn't measure up either. The lens has a definite plastic 'feel,' with plastic pretty much everything - lens mount, body, rings. While the disadvantage could be the lens' resilience to daily wear and tear, the resulting advantage is the low overall weight, with this optic tipping the scales at just 390 grams (13.8 oz). The 55-250mm doesn't come with any perks - there isn't even a distance scale. The cosmetics of the lens have changed slightly from its predecessor version, with the most noticeable change being white lettering on a black background, instead of black on silver.
The prominent zoom ring, taking up half the lens body, takes only a quarter-turn to go through its entire range of focal lengths. The ring is fairly stiff and resistant to zoom creep. The design of the lens is such that as the lens extends its focal length the barrel physically extends, adding a further 1 3/4' to the overall length at 250mm.
The focus ring is much less prominent than the zoom ring, also taking only a quarter-turn to go through the lens' entire focus range. This isn't a lens designed for precision manual focus operations. The lens doesn't hold its focus between focal lengths, so to use this lens efficiently you should choose your zoom setting first, then focus. Finally, the focus ring will rotate during focus operations, so any attached 58mm filters will also rotate, which is a pain when using polarizing filters.
The main draw for this lens is its image stabilization feature, which Canon advertises will allow a shutter speed four stops slower than required for a shake-free image. Check out our detailed IS Test tab above for greater detail, but the short story here is that the IS feature works very well at the wide end of the spectrum, and hardly at all at 250mm.
Alternatives
Canon EF-S 55-250mm ƒ/4-5.6 IS ~$650
We were impressed with the predecessor version of the 55-250mm, and optically, the two lenses are nearly identical. In fact, apart from slightly worse performance for CA, you'd be hard-pressed to tell one lens from another, except that there are some slight cosmetic changes.
Canon EF 70-300mm ƒ/4-5.6 IS USM ~$650
We were impressed with this lens, which is slightly more on the telephoto end than the 55-250mm. Optically they're in the same category, with the 70-300mm delivering excellent results for sharpness, CA and distortion; it also has some of the best results for corner shading (in particular, the lack of it) that we've ever seen. As an EF lens, it will mount on full-frame bodies, and its USM specifically allows for impressively fast and quiet autofocus.
Canon EF 70-300mm ƒ/4.5-5.6 DO IS USM ~$1150
We haven't tested this lens, but an overview would suggest it is a much smaller version of the non-DO version; user reviews are generally positive.
Sigma 18-200mm ƒ/3.5-6.3 DC OS HSM ~$550
Sigma has recently entered the image-stabilization fray with this lens. In our testing it isn't as good optically as the Canon 55-250mm; sharpness, CA, corner shading and distortion are all markedly worse, and it's a fair bit slower too boot. Then again, you're getting the 18-55mm focal range built-in.
Canon Ef-s 55-250mm Manual
Conclusion
Canon hasn't done much to this lens in its update, other than change the decoration. It's a good but not great lens, but for the price it's hard to beat.
Sample Photos
The VFA target should give you a good idea of sharpness in the center and corners, as well as some idea of the extent of barrel or pincushion distortion and chromatic aberration, while the Still Life subject may help in judging contrast and color. We shoot both images using the default JPEG settings and manual white balance of our test bodies, so the images should be quite consistent from lens to lens.
As appropriate, we shoot these with both full-frame and sub-frame bodies, at a range of focal lengths, and at both maximum aperture and ƒ/8. For the 'VFA' target (the viewfinder accuracy target from Imaging Resource), we also provide sample crops from the center and upper-left corner of each shot, so you can quickly get a sense of relative sharpness, without having to download and inspect the full-res images. To avoid space limitations with the layout of our review pages, indexes to the test shots launch in separate windows.
Your purchases support this site
Canon EF-S - Black
Canon EF-S 55-250mm f/4-5.6 IS II User Reviews
8.5/10

average of 2 review(s)
Build Quality

7.5/10
Image Quality

9.0/10
9 out of 10 points

and

recommended

byAdamH(3 reviews)

Noisy IS and AF

Good telephoto lens for people on a budget. Although IS and AF is noisy, the price you can't beat for the image quality it produces.
SAMPLE IMAGES:
http://www.flickr.com/photos/adamhenthorne/8448051467/in/photostream/
http://www.flickr.com/photos/adamhenthorne/8448044257/in/photostream/

reviewed January 12th, 2013(purchased for $210)

8 out of 10 points

and

recommended

byApricane(6 reviews)

Barrel Distortion (mostly at short focal lengths); vignetting can be annoying; rotating focus ring; stupidly noisy IS; slow AF; almost too light.

Seeing how everyone reviewed the other version of the lens, I hope I haven't made a bad decision to get the II!
So far, I'm very satisfied with the quality of the pics I have been able to take with this lens. Color is so much better than the kit lens, as is sharpness and overall image quality. Bokeh is also a lot easier on the eyes and much nicer.
I seem to run in problems with barrel distortion at shorter focal lengths, which is a pain since Aperture, my main RAW processing app, doesn't seem to have an option for correcting it. Thankfully, it has an option for devignetting, as this is also a recurring issue with the lens, although not as bad as distortion.
Like most lens in this price range, the focus ring rotates; combined with a physically long lens and relatively slow AF speed, this can make polarizing filters very hard to use.
Also, I've noticed the IS can be quite noisy, especially if the lens is moved significantly while holding down focus, for example when panning, which can cause problems and embarassment when used in quieter environments.
What is more, when using the lens hood, I find the lens is so light that it is easily caught by the wind, making it noticeably harder to handhold. It is almost too light even when there isn't any wind.

reviewed November 8th, 2011(purchased for $200)
Canon 55 250mm Is Ii
Navigate Review

Jump to review page...